The unveiling of the UCSF Anchor Institution capacity and recommendations report last May represented a significant commitment from UCSF to rethink and reshape the ways in which it does business in order to address health disparities and inequities.
In joining the national anchor network movement, UCSF has committed to collaborating with local community partners to improve health equity in under-resourced communities across San Francisco and the Bay Area through actions that positively impact the economic security of those communities. The specific areas in which UCSF is focusing are:
Workforce Development: Strengthen UCSF's capacity to train, hire, and promote people from under-resourced populations.
Procurement: Increase the amount of goods and services that UCSF can source and purchase from small, local businesses that are owned by or employ under-resourced populations.
Community Investment: Explore options for social impact investing.
UCSF's commitment to strengthening its role as an anchor institution is intended to bolster the efforts already underway across the university's three mission pillars: research, education, and patient care.
UCSF Establishes Anchor Institution Office
To organize and support these new anchor institution activities, an Anchor Institution Office has been established within the Office of the Senior Vice Chancellor, Finance and Administration (SVCFAS). The office is directed by Barbara J. French, executive communications advisor and former vice chancellor for UCSF University Relations; Wylie Liu, executive director of the UCSF Center for Community Engagement (CCE); and Howard Pinderhughes, PhD, professor of social behavioral sciences at UCSF. Formed in August, this team is charged with helping to organize UCSF's anchor work and with providing longer term recommendations to the SVCFAS and UCSF senior leadership for successfully operationalizing the initiative.
A New Role for the CCE Council
Over the past decade, a 24-person council composed of San Francisco community leaders and UCSF faculty, students and staff, has guided the work of the Center for Community Engagement—providing an important and necessary bridge between UCSF and San Francisco's diverse communities.
This same council played a key role in guiding and informing the UCSF Anchor Institution capacity and recommendations report. Having championed and introduced the anchor institution model to UCSF, this same council is now serving as the newly formed Anchor Institution Steering Committee.
The steering committee is co-chaired by Monique LeSarre, PsyD, executive director of the Rafiki Coalition for Health and Wellness, and Jess Ghannam, PhD, clinical professor of psychiatry and Global Health Sciences at UCSF.
"It was a natural outgrowth of the CCE Council to take on the role of the UCSF Anchor Institution Steering Committee to both guide the evolution of UCSF's anchor work and to provide accountability," LeSarre said.
"For more than 13 years, the CCE has provided a strong and consistent partnership between the university and the community for the specific purpose of fostering deep relationships and building community-university trust," LeSarre added. "With this new role, we are now pivotal in helping UCSF strengthen its ability to advance health equity and health outcomes. This work is essential to the health of our communities."
The Anchor Institution Steering Committee will deliver a three-year strategic plan and budget to the SVCFAS next spring. In December, the steering committee will also convene three subcommittees to advance the three focus areas of workforce development, procurement, and community investment.
"By acknowledging its role as a significant anchor institution and committing to utilize its economic power to address disparities and inequities in health outcomes, UCSF is more closely aligning itself with the community," Ghannam said. "The CCE and its council have a track record in strengthening the ties between the university and the community to positively impact health. UCSF's Anchor Institution Initiative provides greater opportunity to strengthen and expand those collaborations for the express purpose of reversing our communities' growing health inequities."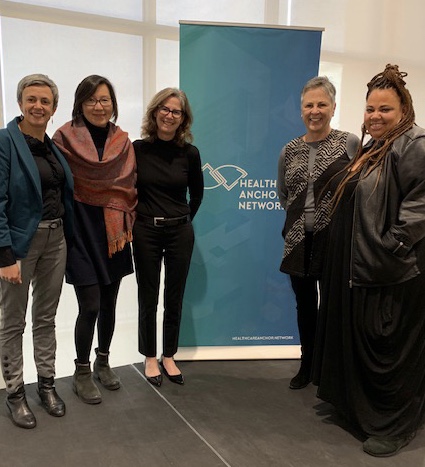 Lessons Learned from Peer Anchor Institutions
In October, Senior Vice Chancellor Paul Jenny and the members of the UCSF Anchor Institution Office met with David Zuckerman, director of healthcare engagement at the Healthcare Anchor Network (HAN), a national collaboration of 45 healthcare systems designed to help members more rapidly and effectively advance their own anchor mission approach. The purpose of the meeting was to brief Zuckerman on the progress that UCSF has made since its anchor assessment was published last May and to continue to learn from the work being spearheaded by HAN and its members.
Five representatives from UCSF then attended HAN's membership convening in Utah in November, seeking to learn from others who are further along in the process and have achieved some progress.
As testament to HAN's impact, two network members, CommonSpirit Health and Kaiser Permanente, were recently featured by The New York Times' in a piece highlighting their transformative anchor model efforts, "When A Steady Paycheck is Good Medicine."
Meanwhile, awareness and excitement continue to build at UCSF. The initiative was featured by Chancellor Sam Hawgood during the State of the University address in October. "The goal is to broaden our impact as an economic catalyst," said Hawgood, "and increase our ability to mitigate and counter the region's growing inequalities."
If you have questions about the UCSF Anchor Institution initiative, please email us at [email protected].